Devante Kincade Cover Letter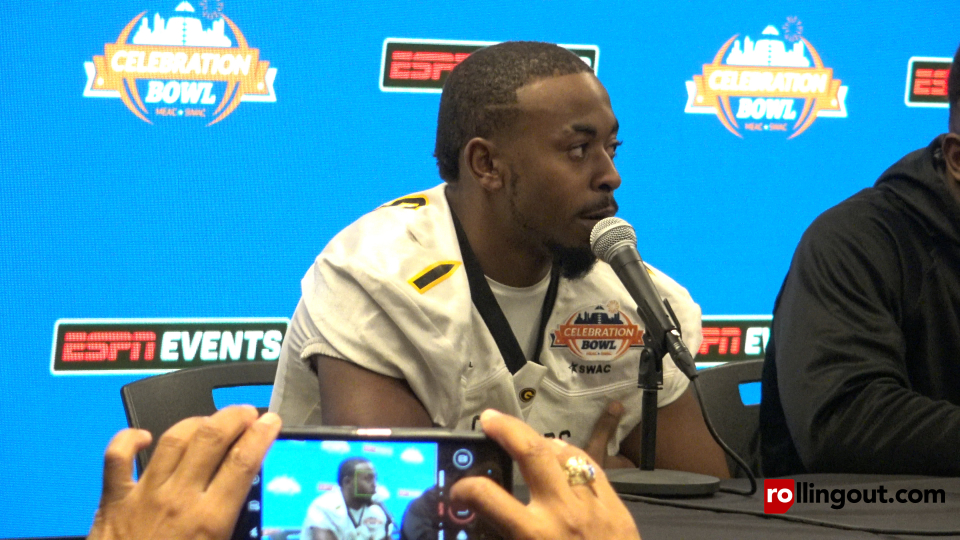 (Photo by Rashad Milligan for Steed Media Services) Grambling quarterback DeVante Kincade speaks to the media after the 2017 Celebration Bowl.
DeVante Kincade was the 12th ranked dual-threat quarterback in the country to come out of high school in 2013. He committed to play in the toughest conference in all of college football, the Southeastern Conference (SEC), with the Ole Miss Rebels. Kincade played in one season as the backup quarterback for the team in 2014, finishing the season completing 16-of-20 attempts for 127 yards and a touchdown while backing up Bo Wallace. He also ran for 95 yards and a touchdown that year.
After the 2015 season, Kincade decided to transfer to Grambling State University, citing his mother's health and his lack of playing time as reasons for the move. Grambling has a rich football history, going to the last two HBCU National Championships and winning in 2016. Grambling also produced Doug Williams, the first Black starting quarterback to win a Super Bowl and James Harris, the first full-time Black quarterback starter in the NFL.
"I never really knew about the HBCU life when I was in Mississippi because growing up, the hype was going to big schools, going to D-I's and playing on ESPN," Kincade said. "That's what I was raised around because I had an older brother, but coming to Grambling changed my whole perspective on college. If I could've come out of high school [again], I promise I would've come to Grambling. To get the experience, the real college experience, the family experience, no matter what. If you're a third-string, walk-on, they're going to treat you like a starter. So it was a blessing coming to Grambling."
While it's uncertain whether he'll actually be drafted this upcoming spring, he'll get a look from an NFL team as an undrafted free agent in offseason camps. He has great speed and decision-making skills as he proved in this year's Celebration Bowl, also known as the HBCU National Championship. He finished the championship by completing 19-of-36 passes for 225 yards and running for a team-leading 93 yards, as well. The Tigers lost to the A&T Aggies 21-14, but Kincade fought to the very last second.
"I really wanted to win another championship my last year," Kincaid said after the loss. "I felt like that was my stamp leaving, that was my little go-away present, that was my plan. But you know, God had different plans. So when I was standing there it was really overwhelming because my college career's really over and I wish I had another year at Grambling at least to play one more time because it was an amazing experience."
Kincade can follow in the footsteps of the other undrafted Tigers' quarterback, Williams, in terms of success in the NFL. The pinnacle of quarterbacks from HBCUs in the NFL, however, is the late-great Steve "Air" McNair, who hailed from Alcorn State. McNair was most known for leading the Tennessee Titans to a Super Bowl in one of the closest finishes in the game's history in 1999.
Published on August 31, 2017 at 2:34 PM EDT
Updated on August 31, 2017 at 5:02 PM EDT
All Photos Courtesy of Grambling AthleticsGrambling's DeVante Kincade began his career at Ole Miss, but he's winning HBCU National Titles at Grambling.
To DeVante Kincade, playing in the SEC at Ole Miss and playing for one of the top HBCU programs of all time at Grambling aren't all that different -- except maybe the difference in respect the two leagues get. He would know, he's played for both.
The Egg Bowl -- that ancient rivalry between Ole Miss and Mississippi State? Well Egg Bowl, meet The Bayou Classic, played the same week in November. The Bayou Classic between Grambling and Southern U. last year was played at the SuperDome and attracted 68,000 fans.
The Egg Bowl? Try 66,000. And Grambling's 2016 Celebration Bowl crowd of 31,000 beats Ole Miss' 2016 bowl crowd of ... oh wait a minute, the Rebels weren't in a bowl last year.
And talent wise? Ole Miss had one player taken in the first two days of the 2017 NFL Draft (TE Evan Engram, 1st round), but so did Grambling (WR Chad Williams, 3rd round).
RELATED: PODCAST: DeVante Kincade, star RB Martez Carter and star OL Trenton Scott talk about the 2017 season and what it's like to be a part of the Grambling legacy
To be honest, Kincade isn't that cynical about Ole Miss, he loved his time in Oxford. The above examples are just raw facts to prove a point: You can win championships and receive accolades at multiple levels. The Grambling star QB appreciated his time with the Rebels and in the SEC, but it's been way more fulfilling playing at Grambling. And it's hardly over.
As a sophomore, practicing to play against Oklahoma State in the 2016 Sugar Bowl on New Years Day, he broke his ankle. It was a grueling time for him, and he didn't know where things were heading -- but it took him here.
RELATED: Compare Grambling's DeVante Kincade -- or any FCS player for that matter -- with any other college player
"It's kind of overwhelming, because I never knew what God had in store for me after I broke my ankle," Kincade told HERO Sports this week. "I was going to transfer, but a lot of schools backed off me after (the injury) but Grambling just kept pressing towards me. And in my eyes, that was God telling me to come to Grambling.
"That was always my dream, to be a starter ... It still feels like a dream, and I'm humbled. Right now, I'm looking forward to making a repeat (of the HBCU national title) and my mind right now is on Tulane (Saturday night)."
Tulane is likely bracing for what's about to happen this weekend. Kincade was good for 2,999 yards passing, 31 TDs and only 4 INTs last year, and proved effective on the ground also with more than 500 yards gained (without the negative plays included) and 4 more scores. And on the flip side? Grambling only allowed 16 points a game last year.
He was a catalyst, combined with current NFL receiver Chad Williams and RB Martez Carter and the rest of the Grambling offense to be nearly unstoppable last year enroute to a Celebration Bowl win. It was Grambling's 15th black college national title.
Kincade had a good bit to do with it, combining his deft passing touch with the ability to get out of defensive snare traps.
"He's very commanding of the huddle, and he takes charge of the offense," All-SWAC O-lineman Trenton Scott told HERO Sports. "He knows how to manipulate a defense and he has a very quick twitch side when he gets on the edges. It makes a defense try to decide whether to try to take him on or keep covering receivers. He does a good job with that ... He definitely makes my job a lot easier."
Kincade was big time coming out of high school. A stud out of Dallas Skyline HS in Texas, he ascended quickly through the prestigious Elite 11 circuit and was invited as a rising senior to the national camp at the NIKE campus headquarters in Beaverton, Ore., where he would be in the same camp with Jared Goff, Josh Dobbs, J.T. Barrett and Christian Hackenburg. He was the smallest QB there (today is 6-foot-1, 190 pounds), but caught the attention of camp trainers -- including former NFL QB Trent Dilfer -- with his deft touch on near and intermediate routes and ability to improvise on plays. And that's exactly what he did at Grambling last year.
His top skill-player threat this year is RB Martez Carter (900 yards rushing, 350 yards receiving -- 15 total TDs) and nobody knows better how good his backfield mate is.
"His communication skills are the best," Carter told HERO Sports. "His pre-snap reads and his playmaking ability plays a big part in it all. I guess his communication skills, his playmaking and his ability to do it all in three seconds? That's why he's good."
This weekend, the Tigers travel to Tulane aiming for their first FBS victory since beating Oregon State in 1985. Grambling came close last year at Arizona before falling by 10 points, but it didn't work out -- which Kincade admits he deeply regrets because it would have meant a 12-0 season.
They're hungry.